Building my first terrarium
Last updated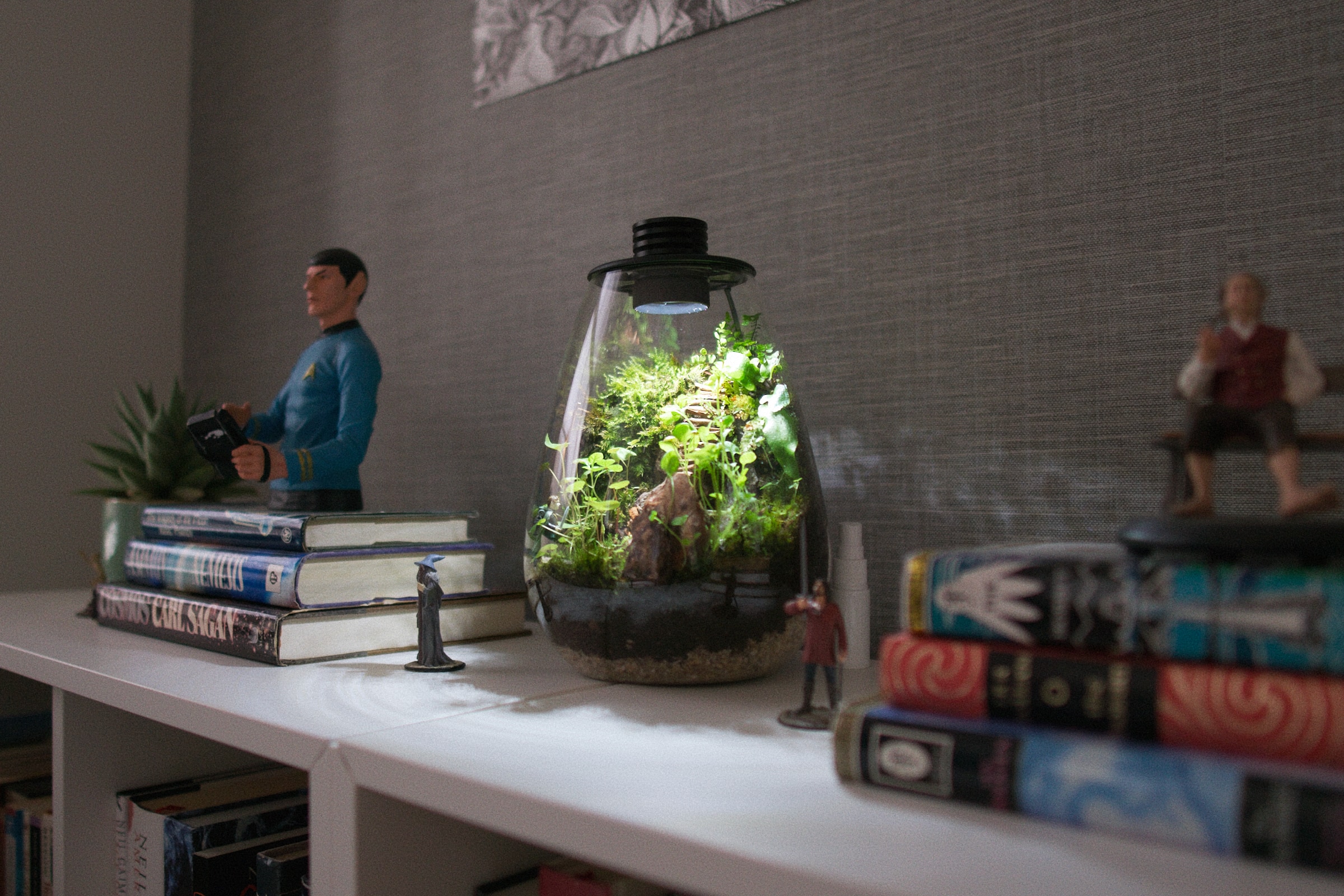 I grew up surrounded by plants. My grandparents had a verdant garden full of fruit trees, shrubs, flowers… my cousins and I were always playing in the garden picking strawberries, jambolan, passion fruit, oranges, bergamots, figs… you name it, they had it all.
When I was 13 years old my mom started her own business, a garden centre. I loved that place. It was back-breaking work, but it was super rewarding. We did landscape design, and it was very cool walking around and seeing the gardens you designed and planted grow strong and healthy. Even years later I could see some of the trees I planted still going strong.
So last Christmas when a friend of mine gave me a terrarium bowl, I was super happy. Growing up I worked on a lot of bonsais, and always kept aquariums with geckos and little spiders, so you can see how a terrarium would be right up my alley.
Setting the scene
I have these collectible The Lord of the Rings miniatures and thought it would be super cool to use the hobbits for the design. After rewatching some movie clips, I got inspired by The Stairs of Cirith Ungol. That's when Gollum leads Frodo and Sam to Shelob's lair. Although that is much too dark to portrait in a green moss terrarium, in my head I just pretend the place was still under Gondor's rule, and I imagined things were much greener then.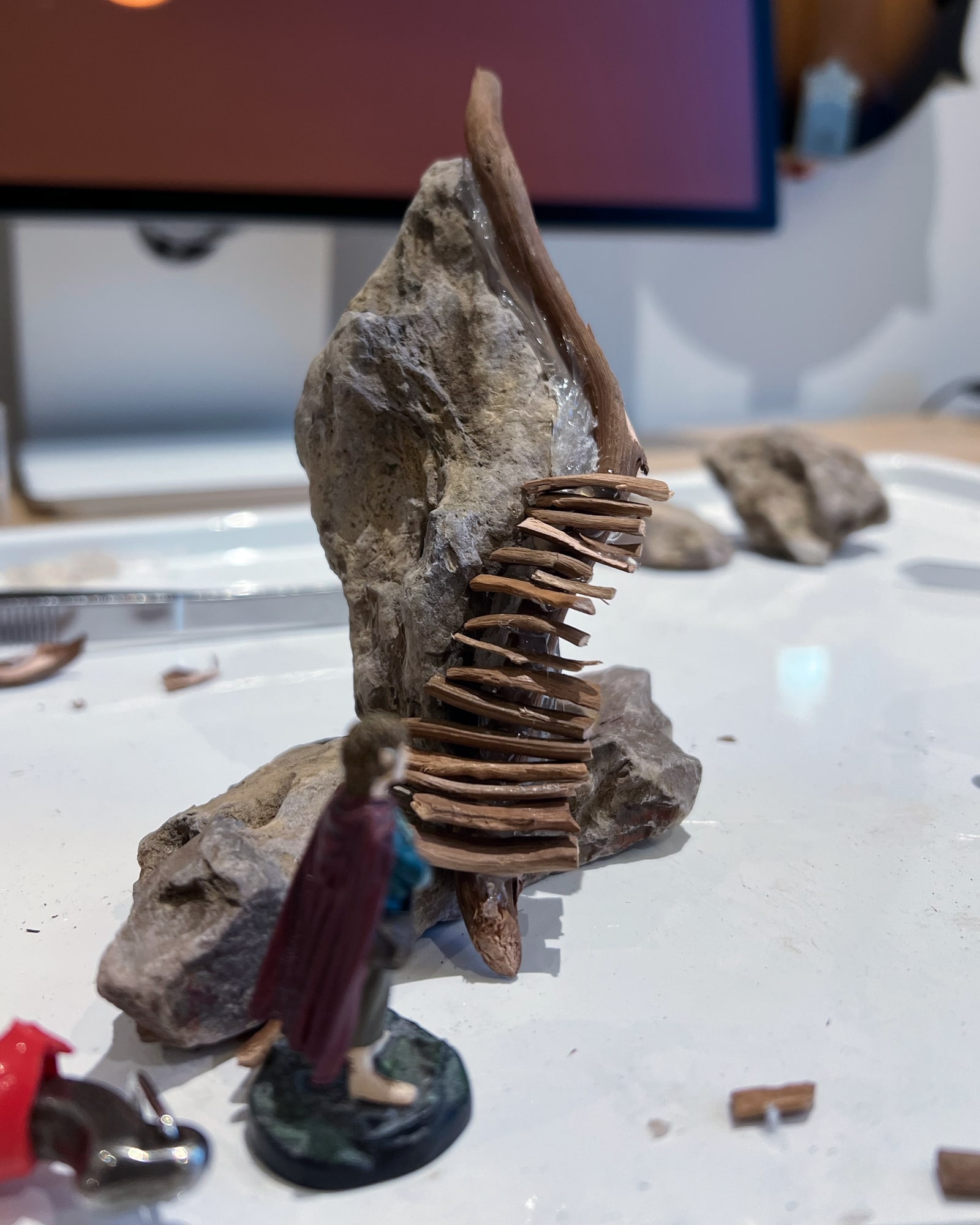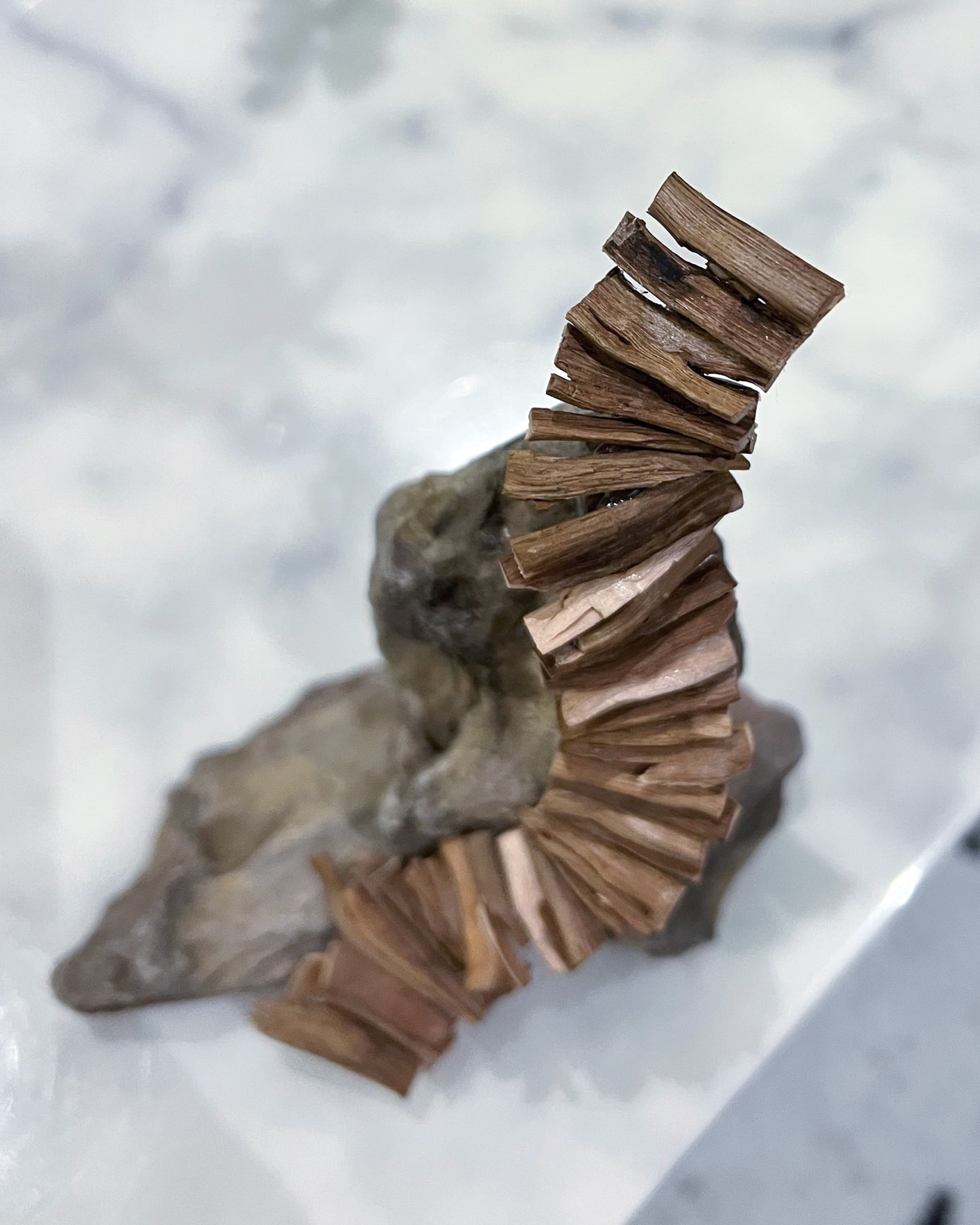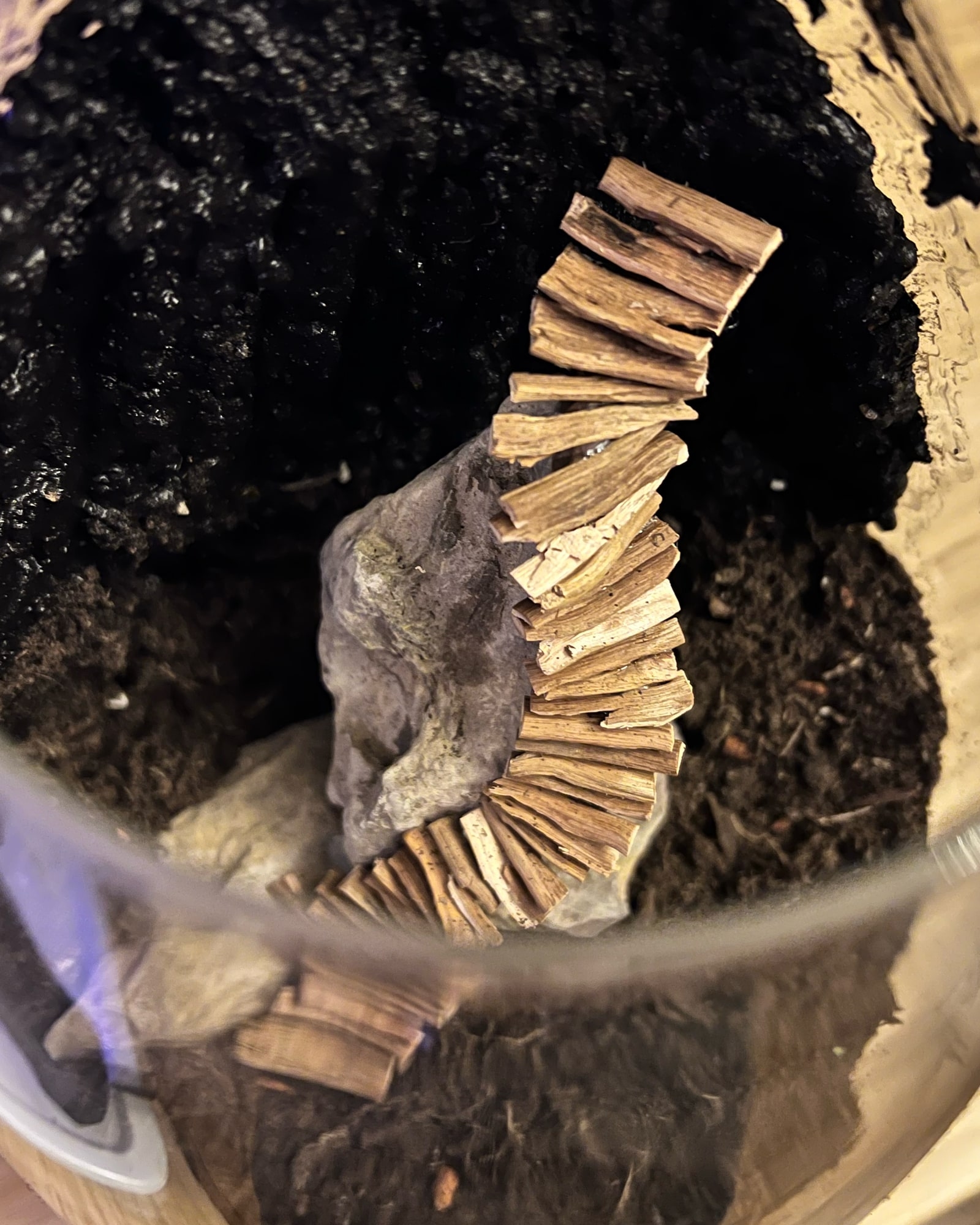 I started by cutting the steps from driftwood and hot-gluing them into a long twisted piece of driftwood, it looked like a perfect little winding stair. I kept Samwise the Miniature close by to get the proportions just right.
With that done, I mixed some aquarium substrate with crushed clay (so it would hold up) and plastered one of the sides of the bowl with it. Then I went out on a hike and collected some mosses and little ferns to decorate it. Here's the final result: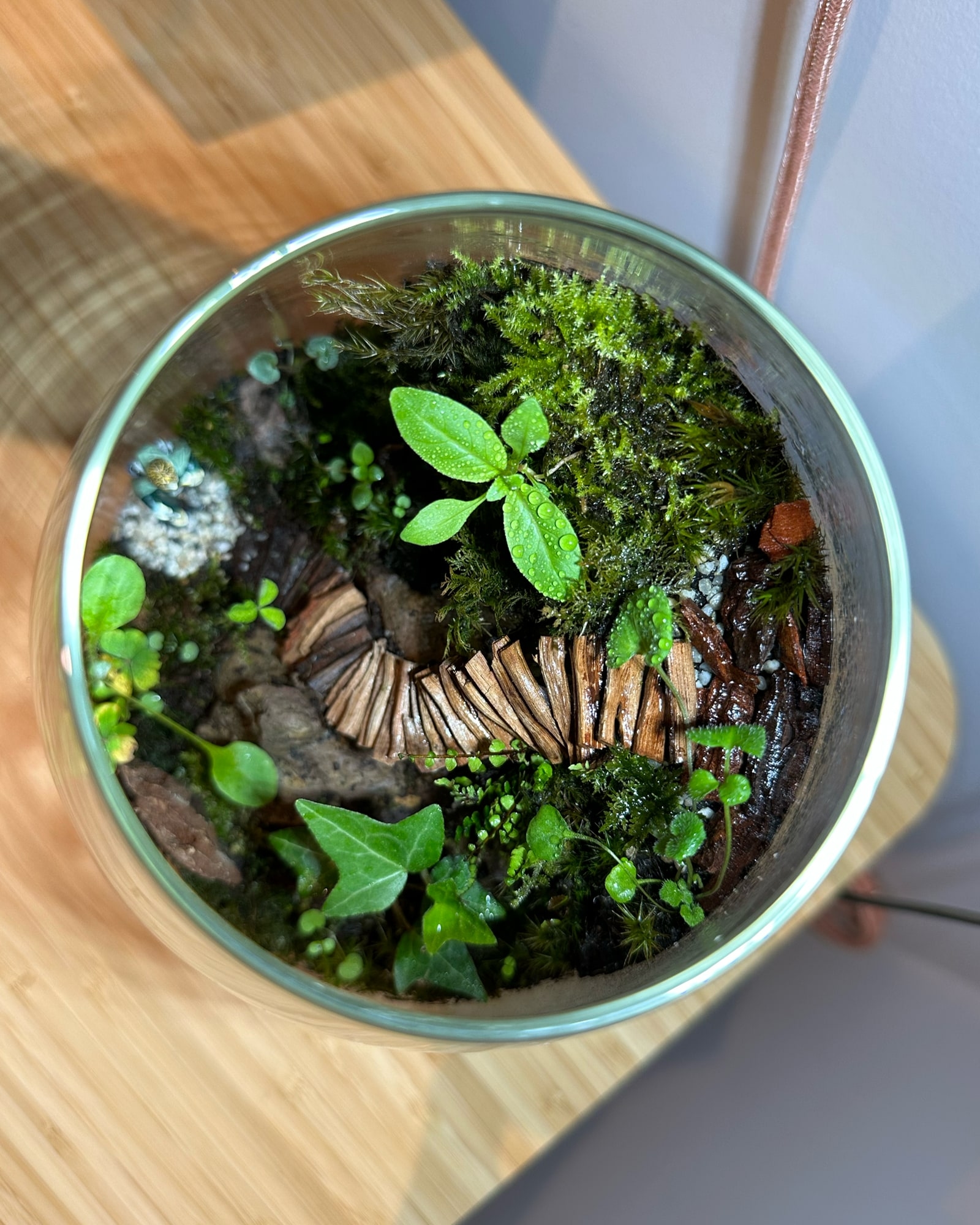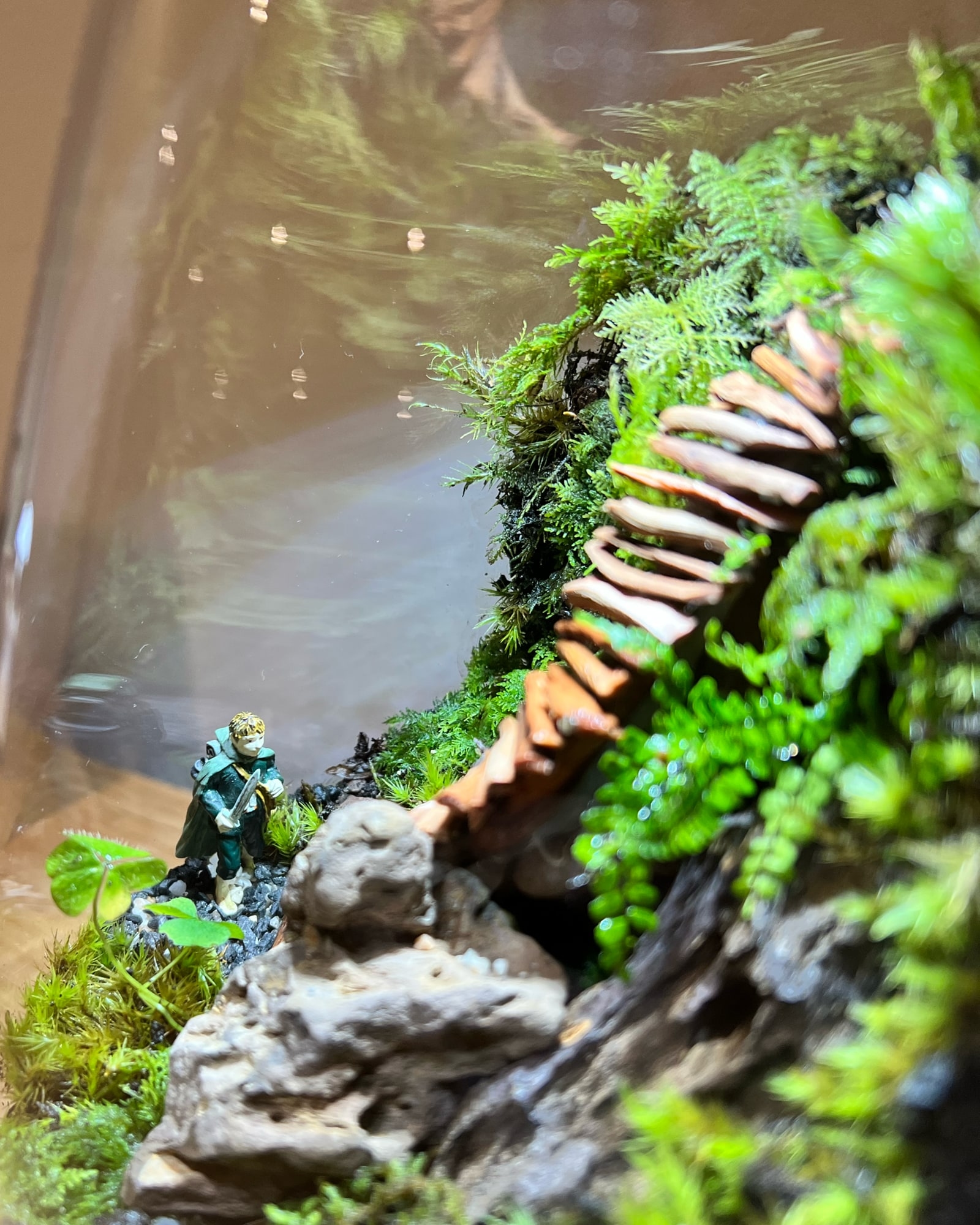 Because terrariums are very humid environments, they can grow moldy, so I got some tropical springtails from a pet shop and chuck them into the bowl. Now they are the terrarium's official bioactive clean up crew.
I also went out in the park and found some isopods to keep them company, but I guess they burrowed underground because I haven't seen them in a while.
45 days later
Some time has passed and it is now looking gorgeous! I kept it at my desk for the first month or so, but since have moved to my book shelf where it gets a bit more direct light in the mornings.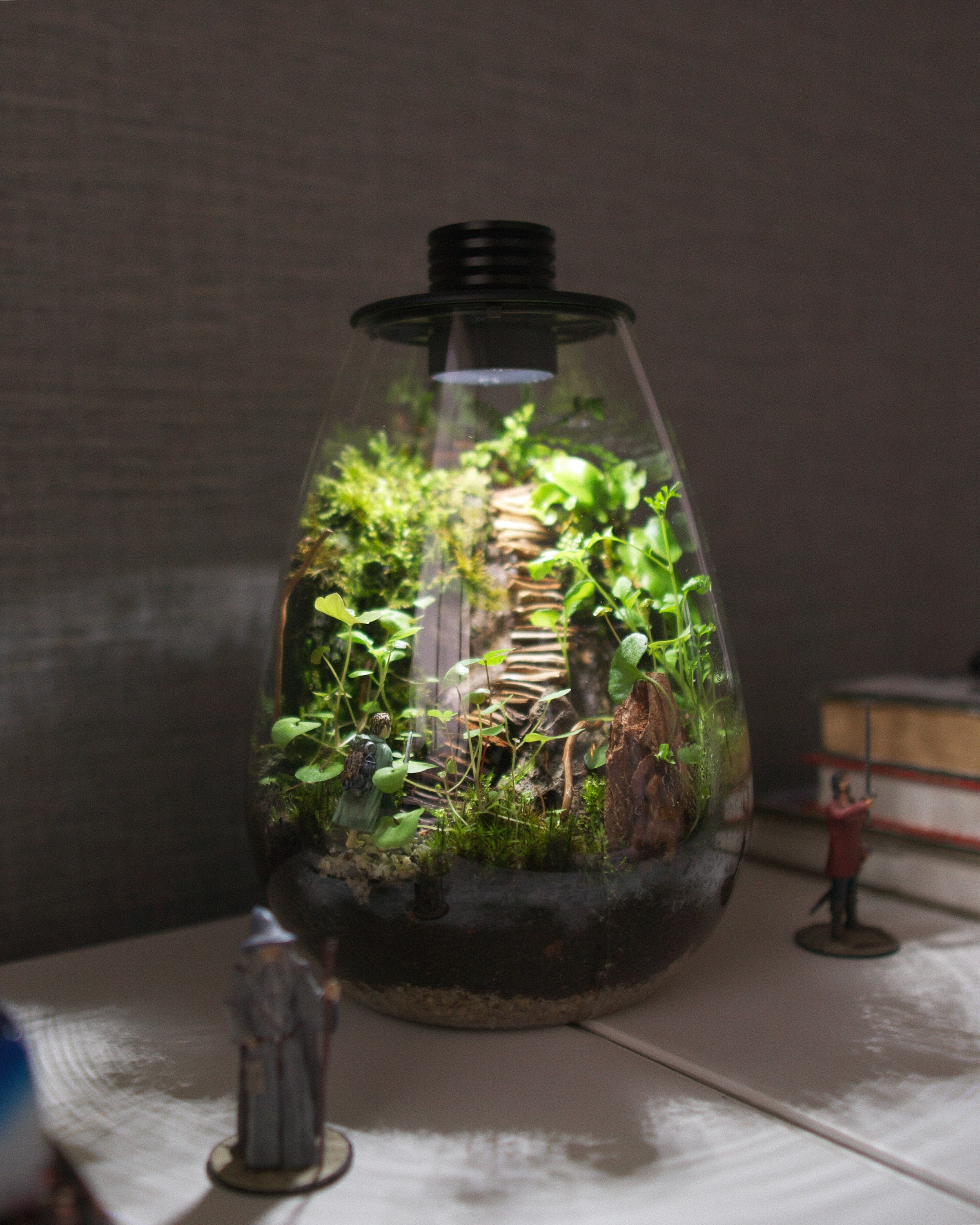 The brave things in the old tales and songs, Mr. Frodo: adventures, as I used to call them. I used to think that they were things the wonderful folk of the stories went out and looked for, because they wanted them, because they were exciting and life was a bit dull, a kind of a sport, as you might say. But that's not the way of it with the tales that really mattered, or the ones that stay in the mind. Folk seem to have been just landed in them, usually – their paths were laid that way, as you put it. But I expect they had lots of chances, like us, of turning back, only they didn't.
Most of the moss is as green as day one, and the weeds have taken hold of the bowl. To be honest, I was not expecting so many weeds, and I had to remove some of the bigger ones because they were growing past the bowl lid.
Some days I give it a little spray of water, mostly on the top part as it tends to get drier. Looking back, I should have put less dirt and build it a little lower in the bowl so it's not so close to the light. Next time!
---
You might have noticed that this post is titled "my first terrarium". That's because I plan to design a few more this year :)